Lot's of race day smiles and personal growth at the 2023 MetaSprint Series Aquathlon
8 February, 2023
After weeks of rain and gloomy skies the sun came out today and blessed our athletes with some beautiful weather. The maskless festive vibes were back in full force and Palawan Beach was full of friends and family supporting their loved ones as they kickstarted their 2023 racing season.
This race saw the return of many previous athletes who were out there challenging themselves to improve their times from previous year races, but we also saw a large percentage of newbies with over 200 multisport first timers.
Elite Wave – Sprint Distance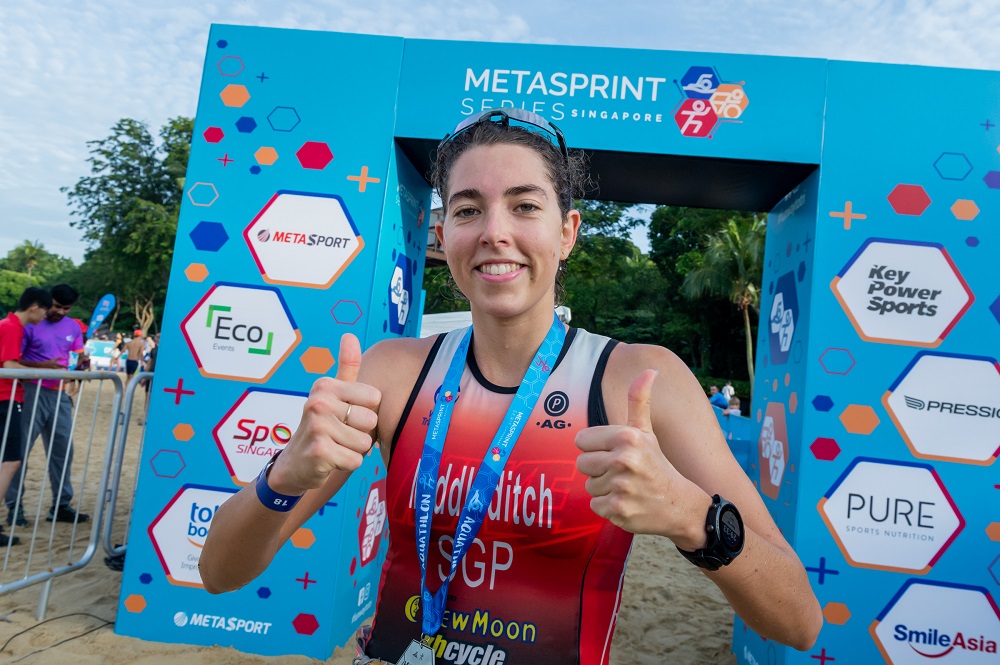 In the female elite race we had 21 athletes and Aussie athlete Melanie Speet led the swim with an amazing time of 09:12. She was first into transition and onto the run with Janel Susastra only 40 seconds behind her. However, local legend Louisa Middleditch who was one minute behind coming out of the swim, flew in and out of transition and it didn't take her long to catch the leading duo and take the lead. From there, nobody could catch Middleditch, as she won comfortably with a time of 29:13, followed by last year's Aquathlon female champion Clemence Chomienne at 31:48. Heather De Freitas rounded up the elite female podium at 32:57. In an interview post-race Louisa said, "It's great to be back at the MetaSprint Series, I love these races. Today was really good fun, it's nice to get chased down by the boys and have that extra motivation. I wanted to see how far and fast I could go. I'm in a big block of training for the SEA Games so it was a good training race for me today."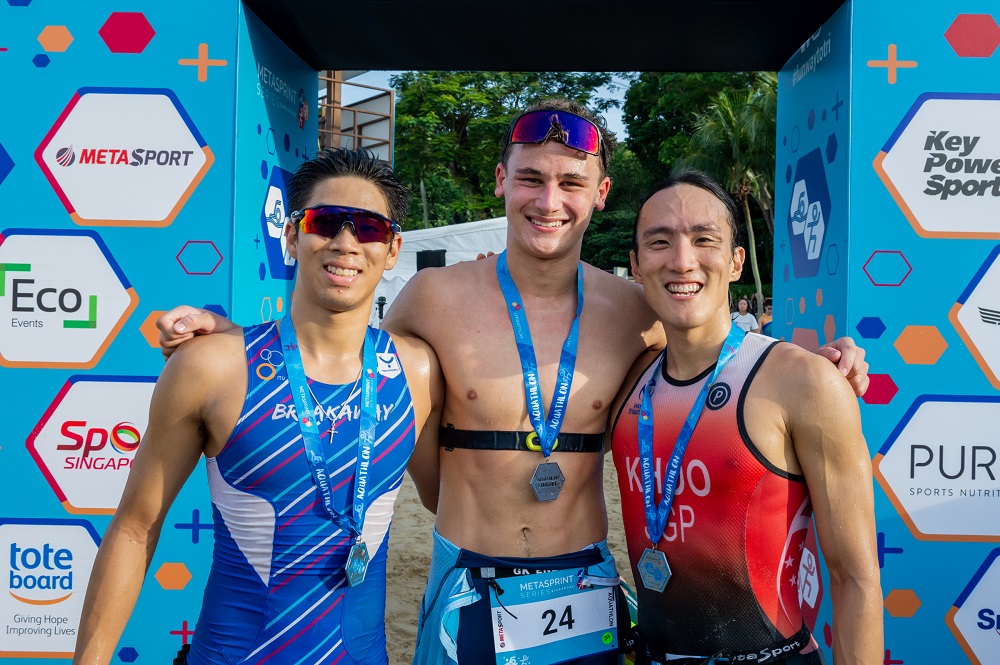 In the men's elite race, Luke Chua and Lachlan El-Ansary went head-to-head in the swim, coming out just one second apart. Chua put the foot down on the run and finished 40 seconds ahead of El-Ansary with a time of 25:42. Ben Khoo came in 3rd spot at 26:39. Notably, this was El-Ansary's first debut race in the elite open category, he was the winner of the youth category in 2022.
In a post-race interview Luke said:"I was sort of expecting to do well today. Lachlan pushed me in the swim, he's really fast – I tried to hang on to him and I almost got dropped. Then on the run he was sticking with me and I thought I've got to give this youngster a run for his money so I went ahead at the 2.5km mark and got away in the end. I tried to catch Louisa when I was running, I was trying to find her but she was running really fast. Then with 1km to go I could see her far in the distance and I knew – she's gone, she's got it. Credit to her, she did really well today."
Despite Chua's stellar run, he was unable to catch the ladies champion Louisa Middleditch, who managed to stay ahead by 23 seconds to be crowned overall Aquathlon "Champion of Champions"!
The "Equaliser"
In this unique race, the 20 female elite athletes started 4min17sec ahead of their 18 male counterparts. The "Equaliser" format challenges both respective fields to be the first over the line and this year Middleditch gave the men a stern challenge. Is this a warning of the strength of the ladies for the upcoming Duathlon and Triathlon? We will soon find out!
Other Superb Sprint Finishes
Outside of the elite wave, the sprint distance category consisted of 750m swim and 5km run and we saw some superb performance from both the men and women.
In the men's sprint distance Mark Jansen (50-54) had an impressive result at 29:23 as did Sean Patrick (20-24) with a time of 29:35 and Charlie McGee with a time of 30:00.
In the women's sprint distance, Sweehong Neo (30-34 yo) had an impressive result at 33:25 followed by Michelle Elizabeth Surjaputra (35-39) at 33:31 and Yuma Kaneko (16-19 yo) at 34:04.
Discovery Distance
Another race category was the Discovery distance which consisted of a 250m swim and 2.5km run.
In the men's Discovery race it was Krit Chiapatamanont representing Tribal Triathlon Singapore who took first place with a time of 13:20, followed by a close chase for second place with Kiat Xuan Kok from Club Breakaway taking second at 14:18 and Jerome Thio taking third place at 14:25. This was a big improvement for Kiat who took third place in 2022 with a time of 15:27.
In the women's discovery race Jess Kang who was also representing Tribal Triathlon Singapore convincingly took first place with a time of 15:33, followed by Astrid Miller at 16:13 and Mavis Kai Xin Seah at 17:33.
Team Relays
Turning to the team relays we had 33 teams participate. The men's sprint relay saw Tribal Triathlon take first place at 26:20 followed by SMU Aquathlon at 28:16 and Elevate Performance Coaching at 30:50. In the mixed sprint relay, Dulwich College took first place with a time of 27:48, followed by SMU Aquathlon at 30:33 and Elevate Performance Coaching at 34:24.
A fitting finale for the race is always the much-loved Youth and Kids distance races.
Competitive Youth
The competitive youth category involved a 250m swim and 2.5km run. 
Kyan Low Kai Heng who represents Tribal Triathlon Singapore won the boys youth 14-15 year old category in 12:54, beating Valentin Schweitzer from MetaSport who finished in 14:02 and Santiago Juarez Gil also representing MetaSport in 14:18. This was an impressive result and a year on year improvement for Kyan who came second place in the 2022 Aquathlon with a time of 14:21.
In the boys youth 12-13 years old category, Ethan Ho Ming Kwan who was representing Tanglin Trust School took first place at 14:41, followed by Carter Kneale at 15:03 and Keiki Tanaka at 15:30. Both Kneale and Tanaka represented Dulwich College.
In the girls youth 12-13 year old category it was a close dash for the finish line with Nica Eapen coming in first at 14:40 followed closely by Luisa Palmer from UWCSEA East who came in second at 14:52, and Mikayla Ng took third place at 16:07.This was another personal victory and improvement for Palmer who came third in the 2022 Aquathlon with a time of 16:10.
In the girls youth 14-15 year old category, Mia Bowman representing UWCSEA East took first place at 15:02, followed by Mirthe Gaytant from XCL World Academy who took second place at 15:32. Coming in third place was Antonia Hall from UWCSEA Dover at 16:45.
Kids Category
The Kids category which involved a 150m swim and 1.5km run  and also showed impressive results.
In the boys 10-11 year old category, Ezra Dowey from Stamford International American School earned first place at 09:05, followed by a close second place finish which was earned by Sean David Teng Jin Khoo from Rulang Primary school at 09:54. Alfie Nicholson from Dulwich College came in third just one second behind at 09:55. Yet again, another huge improvement by Ezra who came in second place in 2022 at a time of 11:09.
In the boys 8-9 year old category Bodhi Gustavsson from Nexus International School took first place at 10:48, followed closely by Caleb Thio at 10:54 and Jaden Thio at 11:38.
In the girls 10-11 year old kids category, Annie Newmarch came in first at 10:02 and Gabrielle Annan, both from Tanglin Trust School came in second at 10:33. Miho Tanaka from Dulwich College took third place at 10:54.
In the girls 8-9 year old category Liliana Hiley earned a convincing first place at 10:31 (she would have come second in the female 10-11 year old category) and Alice Dewy from Fishlike Singapore took second place at 12:59. Third place belonged to Bay Hoogerwerf at 13:10.
Schools Challenge
The Schools Challenge also returned this year for the first time since 2019. It was a tie for first place between Dulwich College and Tanglin Trust, with UWCSEA East taking third place.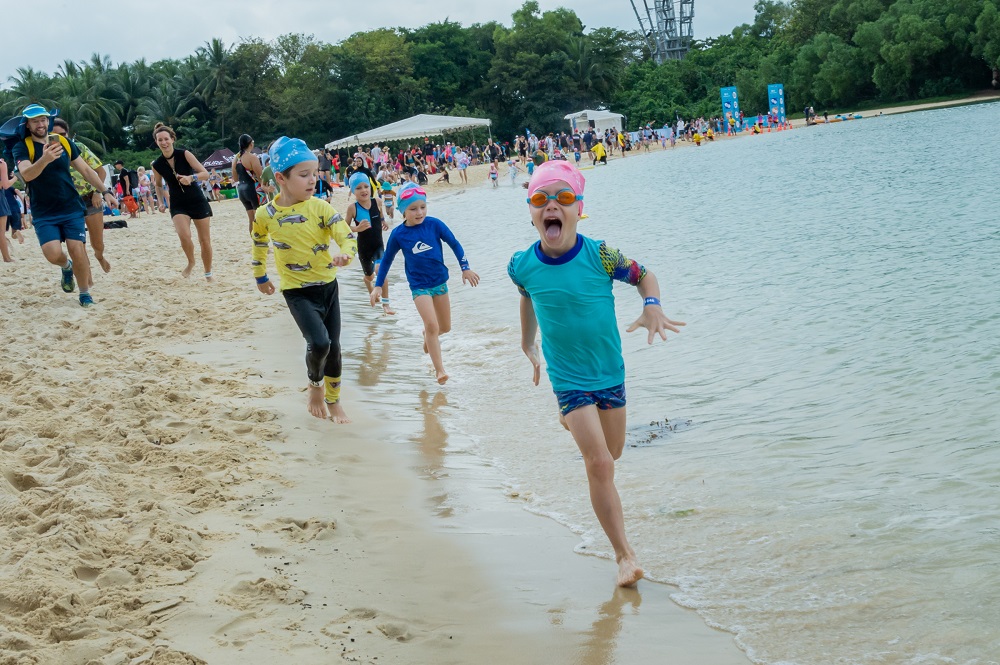 Fun Kids
This year we also saw the return of the fun kids category, children ages 4-8 years old. This was the first time our little ones got to race since Covid! This adorable 50m wade along the shoreline, plus a 500m run was definitely one of the highlights as we saw a flock of adults running along the shore to see the kids run from the start line to transition. Parents and loved ones passionately cheered them on from the transition fences and reunited with them to see their big smiles and proud faces as they crossed the finish line. All these kids are winners in our eyes!
Club Challenge
Last but certainly not least, the team spirit was definitely alive at this year's MetaSprint Series!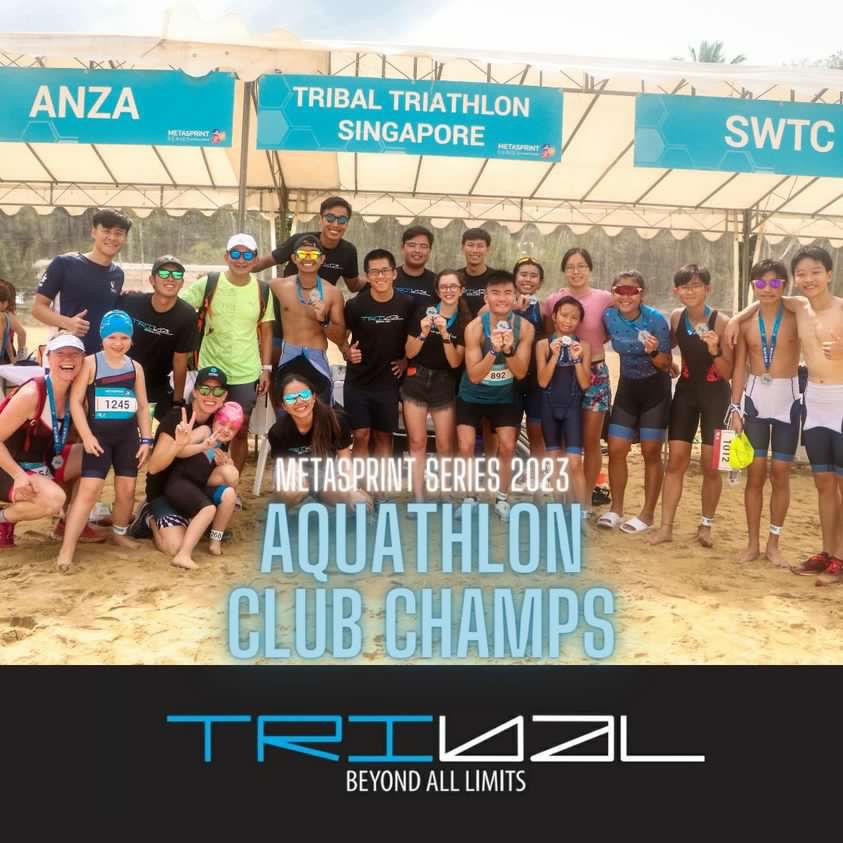 Everyone who finishes wins points for their club or school, so every athlete is valuable. In the 2022 Club Challenge the podium belonged to SMU Aquathlon in first place, followed by Tribal Triathlon in second and MetaSport in third. However, this year's competition saw Tribal Triathlon take first place, followed by MetaSport in second, and SMU Aquathlon in third place.
Stay tuned for the coveted Overall Club Champions trophy at the end of the series.
—
A big thank you to Sport Singapore and Sentosa, and all of our volunteers and event partners, whose support made it possible to bring this event to life.
Next up in the series is the MetaSprint Series Duathlon on Sunday 19 February at the F1 Village! The safe closed roads, riverside run course and striking Singapore skyline at sunrise make it an attractive event for all ages and abilities. Register here.
Full results for the MetaSprint Series Aquathlon can be found at www.metasprintseries.com/race-results/.