SERIES POINTS & EQUALIZER
It's the ultimate friend's challenge. You may be a faster swimmer, but is your mate a faster cyclist? Grab your kaki's, sign up for the three race series and track your points after every race.
Newbies, this is also a great way to track your multi-sport progress.
---
Equalizer – Champion of Champions
The men and women starting in the elite waves vie for the "Champion of Champions" title at each of the MetaSprint Series races.
Based on the fastest women's and men's results of the past three years, the women's elite wave gets a head start on the men. The first man or woman across the finish line will be the Champion of Champions.
---
2023 MetaSprint Series Leaderboard
2022 MetaSprint Series Leaderboard
2020 MetaSprint Series Leaderboard
---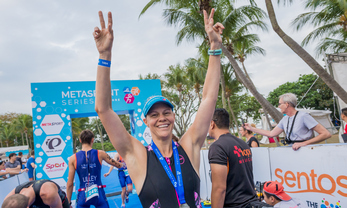 Series Point
How does it work?
---
Participants earn points for every race completed.
The final Championship ranking is based on your earned Triathlon points plus your best points total from the Aquathlon or Duathlon.
Points are calculated by comparing your time to that of your category winner (category winners time / your time * 100).
Example (for calculating points):
---
| | | | |
| --- | --- | --- | --- |
| | Your Time | Winner's Time | Your Points |
| Aquathlon Result | 50mins | 40mins | 80.0 |
| Duathlon Result | 1hr 20mins | 1hr | 75.0 |
| Triathlon Result | 1hr 45mins | 1hr 15mins | 71.4 |
Total Points Series Champion:
Best Result Aquathlon / Duathlon + Result Triathlon
80 Points (Aquathlon) + 71.4 Points (Triathlon) = 151.4 Points Total