Ohh what a feeling, racing is back!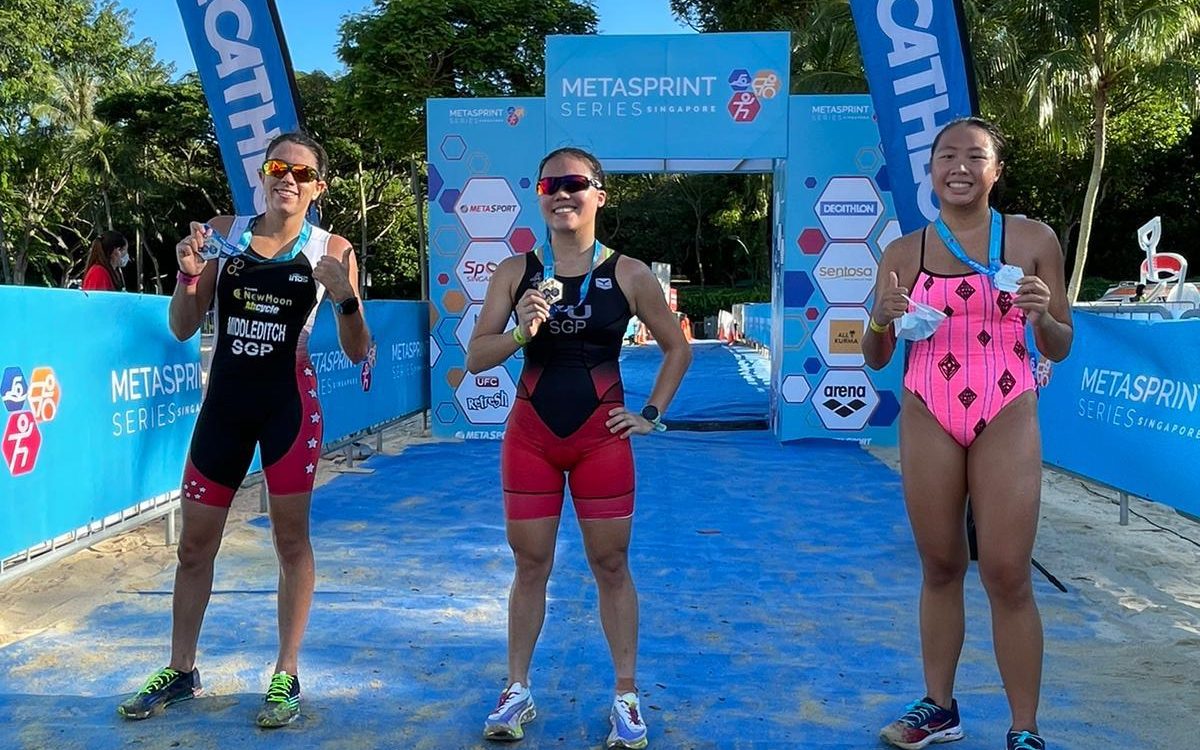 Sunny skies matched the bright faces of athletes at beautiful Palawan Beach, for two days of racing in this year's MetaSprint Series Aquathlon. The race may have looked and felt very different to past years, but the common phrase on everyone's (mask covered) lips was "it's great to be back!".
Covid-19 safe practices were implemented everywhere, and a revised schedule meant that the 1000 registered athletes raced in 50-person bubbles across four sessions, starting two athletes every ten seconds. So rather than having a clear-cut race to the line, athletes who raced over the 750m swim and 5km run Sprint distance, were on tenterhooks until lunchtime Sunday to see if their performance was enough to score a podium in their age category.
Saturday saw some competitive racing between enthusiastic age-group athletes, with Italian Timothy Cosulich (28:27) and Frenchwoman Cindy Beleau (34:52) setting the day's leading times and nervously awaiting the next day's action. They didn't have to linger long, as the first wave on Sunday morning housed the Singapore national team athletes. And they took the course by storm. Their youthful energy and speed tore shreds off the previous day's times, with Luke Chua beating Cosulich's time by 1 minute 44 seconds to finish in 26:43. Michael Cassinides placed second in 27:54 and Nicholas Rachmadi third in 28:13. Cosulich was pushed to fifth overall with Aaron Kiss and Gen Lin Foo also jumping ahead in the standings.
In the women's race, it was the teens of Harlene Yu and Emma Middleditch who pushed the pace finishing within seconds of each other. Yu came out victorious in 29:57 with Middleditch five seconds in arrears in 30:05. Regine Goh took the final spot on the podium in 33:48. Beleau ended up fourth overall.
Despite all the changes the event received the gold stamp of approval from athletes. As one athlete posted on Instagram "Racing is back on. Thank you @metasprintseries for putting together a masterclass of an event. With the number of rules you guys have to deal with you still managed to pull together an event like this, chapeau!".
The Discovery distance was held on Saturday afternoon consisting of a 250m swim and 2.5km run, with many first-timers using the race to begin their multisport journey. In the men's race it was Kiat Xuan Kok who led the way finishing first in 13:22. Sukrit Kapoor took second place in 14:42, and Ken Lie took bronze in 14:58. The women's race was won by Yun Ting Ong with a finish time of 15:36, with Amelia Bateman second (16:35) and Holly Albury third (16:56).
A fitting finale for the weekend was the Youth and Kids distance races on Sunday afternoon. In the always competitive Youth category, Lucas Eiacker won the boys race in 12:01 beating Lachlan El-Ansary 12:30 and Hugo Tan 13:40 over the 250m swim & 2.5km run distance.
The girls Youth race saw Stella Crow dominate, winning the race in an impressive time of 13:03 (a time that would have placed her third in the boys race). Leprovost Oceane finished second in 14:51, followed by Mirthe Gaytant in third with a time of 15:15.
The Kids 150m swim and 1.5km run race showed similar class, with Carter Kneale winning it for the boys over Joseph Kastansis and Max Ahlberg. Hana Maeda, a regular face on the podium, took victory for the girls with Janine Ha coming runner-up and Luisa Palmer taking third.
A big thank you to Sport Singapore and Sentosa whose support made it possible to bring this event to life.
As many happy faces left the venue at the conclusion of their event, it was living proof that even in these Covid-19 times, the MetaSprint Series really is "a fun way to be a triathlete". Full results for the MetaSprint Aquathlon can be found at www.metasprintseries.com/race-results/.